Well, 2020 is going to be a weird year for holiday parties. There won't be any taxi chits gone wrong or the intern finding enough liquid courage to sing 'Savage' by Beyonce as his karaoke pick.
But don't give up on holiday parties just yet – we need them now more than ever! We all need to pull together and do what we've done for the last 6 months: wear our pajamas all day and eat raw cookie dough straight from the package. No, that's not right. What we need to do is make the best of a challenging situation. So here are our top tips for throwing an absolutely awesome holiday party during a pandemic. 
1. Spice up that virtual get together  
The novelty of Zoom calls wore off after about the 5th time you had to tell someone they were still on mute. So a generic old video call just isn't going to cut the mustard this festive season. Of course, you'll need to use video conferencing software to bring everyone together, but you'll need to find creative ways to jazz it up. You can still take part in Christmas favourites – like ugly sweater contests, Christmas trivia, secret santa and more – you'll just need to be creative about how to connect your team when you can't physically be together.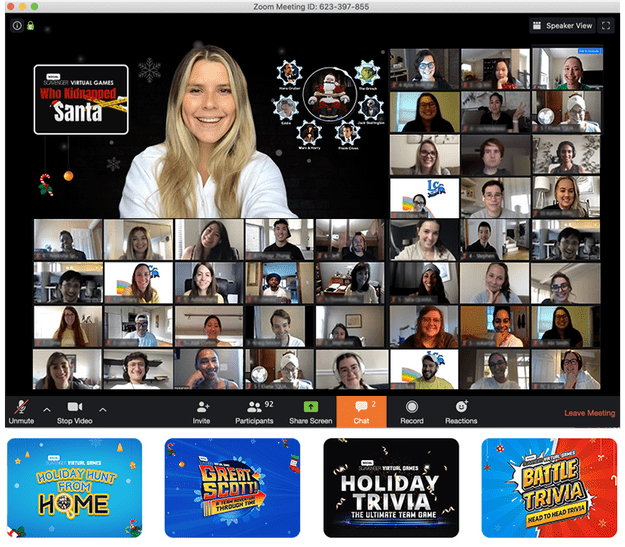 Want more inspiration? Check out some of these awesome holiday-themed Social Scavenger games that you can customize for your company.
2. Add a sprinkle of magic to help reconnect your team 
Just like salt-bae, you need to add a hot dash of flavour to this year's festivities. Why not host a virtual cocktail making class, or hire a magician to put on a super impressive show at your party? Every professional in the entertainment industry is pivoting their business to provide their services online – so take advantage of these offers for the benefit of your team! 

Sound like too much work? Let Social Scavenger add that magical sprinkle for you, by managing your holiday party planning, including customizing a holiday-themed game for your team. 
3. Let's get personal 
Just because you're having your holiday party online doesn't mean you can't decorate. Take advantage of branded Zoom backgrounds, create souvenir photos, and customize your presentations so they showcase your company and its people. If you're planning to run a virtual team game, why not create a video, complete with a highlight reel to show at the end of the party? Creating an atmosphere that speaks directly to your company and your team is a surefire way to create a truly engaging event. 
4. Get help from the pros
Ever heard of a virtual party planner? Well, now you have! If you don't have the time or headspace to organize your holiday party, why not leave it to the pros? Find a provider with years of experience delivering memorable team events – and who understands how to navigate this new virtual party scene. 
5. Time to embarrass, ah showcase the boss 
Your boss might want to spend the holiday party chillin' out maxin' relaxin' all cool, but getting your team leaders to take part in the festivities will help make for a truly memorable experience. How about photoshopping your boss into a game of 'Who Kidnapped Santa?'. Give your team riddles, puzzles and challenges to find out who captured the man in the red suit. This one is a serious crowd pleaser and guaranteed fun for your whole team.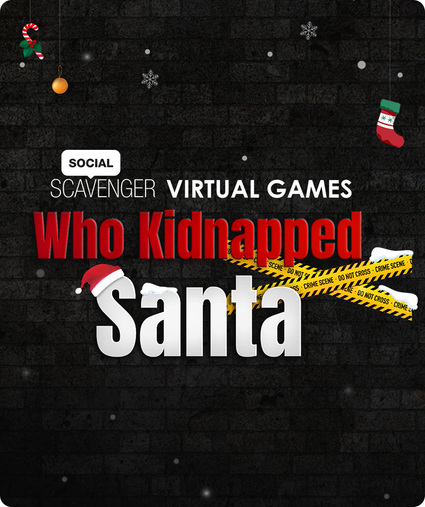 Ready to plan an epic holiday party? Get in touch to see how our team can help you put together a seriously epic virtual holiday event.