Engaging Sponsorships with Mobile Fun!
When the grand total of your sponsorship is your name on some materials and some logos around an event, it's time to think mobile!  And we don't mean mobile ads.  Adding some engaging mobile games to events, venues or other types of sponsorships is a great way to connect with your audience.
Audiences aren't Engaged?
Well hopefully they are – or maybe what you are sponsoring is boring!  But there is a lot of down time at events, there are lines, there are times between acts, there are times to sit and rest.  Basically there is a lot of time where audiences have there head buried in their smart phone, checking Facebook or Twitter or just browsing life outside of your sponsorship.  But what about your poor poster!?  Why aren't they looking at it!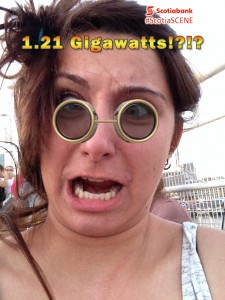 Your Poor Poster 🙁
Bringing your poster into the mobile device is your first step.  But stepping it up, why does your sponsorship not have a game associated with it?  People love games right?  Some people are competitive and love to 'win', others just want something to do.  That's where Social Scavenger comes in.  Take a look at a recent sponsorship with a large bank and outdoor movies.

Case Study:  Scotiabank and the Movies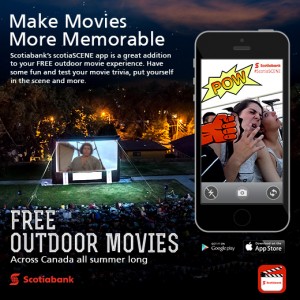 One of Canada's largest banks has an amazing sponsorship all across the country.  They sponsor pop-up outdoor movies!  Take an amazing venue, add in a giant movie screen and a field of lawn chair bringing movie lovers and you have some summer fun.
The Challenge:  People come early! What do I do?
There is a great opportunity to enhance a sponsorship when you have people waiting around!  They all have smartphones and they are all interested in movies.  So Scotiabank decided it was time to give them something to do, courtesy of Scotiabank while waiting for the show to start!
The Solution:  Trivia and Augmented Reality Games
What do people at movies like?  Fun!  So Scotiabank launched a White Label version of Social Scavenger in order to let audiences play movie trivia and take some awesome Augmented Reality photos before the movies, as they lounged on chairs.  No need to run around and solve an amazing race, just chill out on your blanket, answer some trivia, snap some funny photos and climb the leaderboard!
The Results:  Banking Good Times
The results are people engaged with a product from the brand that brings engagement, creates fun user generated content that can be repurposed and relates back into other bigger ongoing movie sponsorships.  The app reminds people about the other sponsorships but really focusses in on the fun side of things! The app is currently only available in Canada – but if you are interested in a White Label app for your next big sponsorship – give us a buzz.  .
Female Green Monster Says:  GRRR…GET IN TOUCH!
Contact us @ info@socialscavenger.com.  You can check out more on White Labels at Social Scavenger