The name's Scavenger, Social Scavenger.
We've come to you to brief you on a new assignment, curious adventurous one. Find the Beacons, complete the challenges and your mission will be complete. Failure to do so, will result in the lowest rank on the Leaderboard and disappointment from your team. Are you prepared to accept this mission?
So, what is a Beacon?
We suppose in order to find the Beacon, it helps by knowing its purpose. A beacon is a small device that uses Bluetooth technology to send radio waves to surrounding devices. Once a device (such as your smartphone) picks up a signal from the Beacon within range, it will state your proximity to its location. Beacons on the market vary in shapes and sizes, so you may come across many different kinds of Beacons. For this challenge, players will be more concerned with locating the whereabouts of the Beacon, rather than what it looks like.
Misconception:  Beacons are a device to Target Shoppers
Beacons were commonly used to 'enhance' the shopping experience for purchasers, by providing them with sales and updates, just by being within vicinity of the beacon. Of course that's not fun.  Social Scavenger has harnessed this new age "intrusion" method, and brought it some refreshing light and joy to engage with players.
How do Beacons work with Social Scavenger?
There are a few ways to get your hands on actual Beacons.  The easiest is just to order them through us, but we can work with your own Beacons if you need.  As long as your players have a smartphone, you're fully equipped to take on this mission – they are on a need-to-know-basis (i.e. they don't need to know anything about the technology.) The challenge description in your mobile app and cool Bluetooth radar gives them everything they need to know.
Our custom radar screen in the app will provide you a meter indicator that acts as "hot and cold" sensors, letting you know if you're closer or further to the Beacon. The range varies based on interference but 100m plus is a good estimate.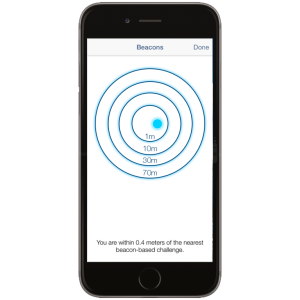 Use Beacons as enforcers to get Players at one spot
Beacons are great if you want players to prove that they're placed at a particular station, rather than a simple and unchallenging check-in. Since players will be constantly moving and searching for the Beacon, it will confirm that they are situated exactly where you want them.
Once your phone has found the exact location of the Beacon, you can unlock the challenge and move on to the next one, or you can make an entire scavenger adventure around hunting the Beacon. You can also check out our visual Case Study on everything and all iBeacons, and a few other examples to get your Beacon challenge started.
Unlock Conventions, Shows, Launches and Educational Outings through Mobile
Use your smartphone at large venue events to understand the proximity of nearby locations and objects. The objective of these large gathered events is to register a personal level of engagement with fans. Involve sponsors with their own Beacons to be more engaged with their fans. Drive them your way by utilizing this challenge feature for accurate indoor tracking, or chasing down moving targets to get your fans up and about. Once you have attention of your players, fire them a notification, image, or video pertaining to the challenge or your brand. A first of this kind opportunity.
It's great if you want fans to be exactly at a particular spot, at a particular time, the helpful radar will continuously be searching to see if they're getting close to the desired location.
Make it Educational while still maintaining a level of Fun for the Kids
Children may not love wandering around museums, but tracking down famous or interesting pieces using the radar, then getting tasked to complete additional challenges? Now that's a fun and educational experience. Masked by all the fun, will still promote learning for the kids.
The Beacon is a great feature that can open up opportunities, like revealing content once within vicinity, or unlocking the next challenge in the hunt. Utilize this feature to get players familiar with their surrounding location, like the store in which your product is sold at.
The Beacon will help you determine your destination, but be careful because this Beacon could be on on the move. Don't know what we mean? Keep reading on 🙂
The Shifting Beacon X
So here's a curveball, sometimes Beacon X is always on the move, and never stagnant at one spot. How? Because the Beacon is a small object, it can be discretely tucked into pockets and bags. This means it can be transported, with no trace in sight. Use this opportunity to create a scavenger adventure entirely based on finding Beacon X through prerequisite challenges and helpful hints. Take a traditional game and make it unique using this opportunity to move your Beacon from location to location. Make your entire scavenger hunt and adventure to find the Beacon.
The Difference between QR Codes vs GPS Location vs Beacons
Let's be honest, sometimes GPS just doesn't cut it. When you're indoors or places with low cellphone reception, it's hard to locate your smartphone through GPS. Beacons are great for heavily insulated areas or low reception areas because of its emitted signal waves can penetrate through physical barriers. Unlike GPS, Beacons work down to the meter using state of the art technology and Bluetooth. You're able to get players to a fairly exact location using the built-in radar in the app.
GPS feature in the App
While we still offer GPS in the app, it isn't housed as one of our 6 challenge features. Moderators can choose to lock challenges to a particular location using the GPS. Once they're within vicinity range of your desired destination, the player checks-in and the challenge is opened and ready to be completed.
QR Codes
We go a little more in depth with unlocking potential using QR Codes in a previous blog post, but in comparison to Beacons, both challenge features dance to a different tune. Each challenge have their own unique reader in the app; the Beacon opens up a radar, while QR Challenges come equipped with a special QR Code reader. The difference with QR challenges is that players are actively searching around for their QR Code to scan.
That just about sums up what you need to look for. Find the Beacon using your handy dandy Beacon radar, find the Beacon at its station, and your challenge is complete.
Got it?
Great. We'll take your silence as a tacit acceptance of this mission. Any further questions can be directed to Headquarters. Good luck.