Why run an Augmented Reality Scavenger Hunt?
Well to start with Scavenger Hunts are super engaging activities.  For friends, a business, a brand,  product launch…pretty much anything.  You get people a little out of their comfort zone, find them some fun things to do and that's where magic starts to happen.  And we all love magic.
With Augmented Reality integrated into your game we take it up a level.  On top of more typical photos or videos, now we can layer in the magic of AR.  This let's you integrate people (your boss's floating head), signs (informational or fun), objects (try on this afro), banners, brands you are working with or the birthday boy you are celebrating.
What is an Augmented Reality Scavenger Hunt?
Right – maybe we should go back a second and start there!  We aren't talking Google Glasses or new space age toys – just your trusty old smartphone (iPhone or Android.  This isn't Augmented Reality that tells you what store is in front of you or down the street, but one that helps create some fun and great content adventures!  It works like this:
Step 1:  → You build a Scavenger Hunt (or Treasure Hunt, Amazing Race etc) using a simple admin interface.  You pick locations for challenges to get done, how many points they are worth etc. and you load up the AR files.  Easy to make yourself if you can use photoshop, otherwise we can help.
Step 2:  → When people arrive at said location (if you want to make it location based that is)  they pop open a challenge and go to 'complete it'.  Instead of just taking a photo, a specific Augmented Reality (AR) graphic will appear in the camera lens alongside the normal view.  Pinching and zooming you place the AR Sticker (that's what we call them) wherever you want and get the perfect photo.
So you are able to take any graphics, fun, informational, branded etc. and integrate them to any photo challenge you give people!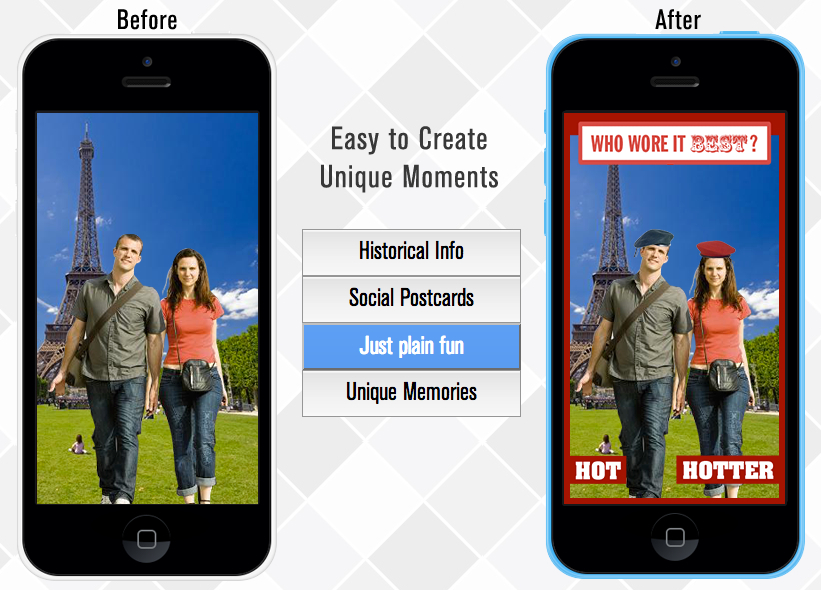 What types of applications are there for an Augmented Reality Mobile Game?
Zillions?  That's too many.  But it's really sky's the limit.  It takes your story telling up another level.  You could recreate a book like this Peter Pan classic or really all kinds of things…here's just a few:
Hollywood Movies   
Why not recreate a famous movie pulling in classic props as people make their way around a town or area.  From a Ferris Bueller's Day Off adventure around Chicago to Lord of the Rings in New Zealand to…well to pretty much most any movie.  You don't even really need the city, that just ads an element.
But Imagine your Chicago tour of all the landmarks including the famous moments from Ferris?  From the Ferrari to the iconic vest, we could event get you up on a float!  And bring in some video to see if you can create some classic moments too…if you are that bold.
Historical Tours
Moving around a famous place there is always so much to learn and history to absorb.  A historical AR hunt is a great way to create  a more engaging experience for kids, but also a great learning guide for anybody.  Now you can bring old artifacts, famous facts or anything else right into your photos!?  You end up with all the typical tourist stuff, but now some really original and memorable photos are yours forever.
Birthday Parties / Themes
While your 4 year old boy might want a Dinosaur and your daughter might like a princess party, there are endless options for all ages.  Pick a them and you have it!  Hats?  Hairstyles?  Any theme you have with your party you can easily create a great companion game right in Social Scavenger.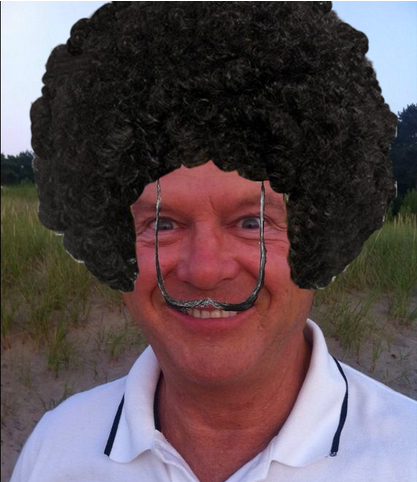 Bachelor / Bachelorette Parties
People love mixing a scavenger hunt into the bachelor and bachelorette parties.  This we know.  But now you can add in all kinds of fun hot or not, old embarrassing pictures, 'classic' objects you might find at one of these hunts and a lot more.
Theme Parks and Destinations
When you head out to a theme park or destination you only get to interact with a small amount of the characters around.  You can't beat seeing them live, but why can't you get into some photos with them just the same?  Why can't I get my head inside that buzz lightyear outfit?  Well now you can!  I'm talking to you Disney….does my kid have to beg!?
Keep Going
You get the idea….there are endless ways to help your story.
So why not try it out yourself or get in touch and talk about making your next Scavenger Hunt something special with Augmented Reality!?