OK look. We know that the holiday party this year is not going to be an epic, all night booze fest where you tell your coworkers how much you love them and then shovel a bunch of poutine into your mouth at 3am to tie a bow on the evening.
I mean, you could still do that last part on your own if you wanted to.
But that doesn't mean this year's holiday festivities need to be a total write off. In fact, with a little creativity, we're confident you can still have an amazing virtual holiday experience for your team.
So before you start planning this year's bash, we've got some tips to help you avoid hosting a real stinker. Here is what not to do for your holiday party during a pandemic
1. Call the whole thing off
Look, we know it's tempting to just try and forget this dumpster fire of a year ever happened. But honestly, people need a party now more than ever before. So find an awesome way to inspire your staff virtually. Whether it's an online ugly sweater party or a holiday trivia game, you can still get your people pumped up even if they can't physically be together.

2. Host a straight up basic Zoom call
For the love of Santa Claus, please don't just host another boring Zoom call. There are so many ways to make video conferencing more engaging and interactive – like custom branded backgrounds, video highlight reels and fun, personalized presentations. And if you want to make your party even more extra, why not try getting the boss involved? By, oh I don't know, dressing him up like Old St.Nick and playing a good old game of 'Who Kidnapped Santa'? Challenge your team with riddles and puzzles to find out who captured the man in the red suit. There are so many ways to get your team into the festive spirit – even if they're not together.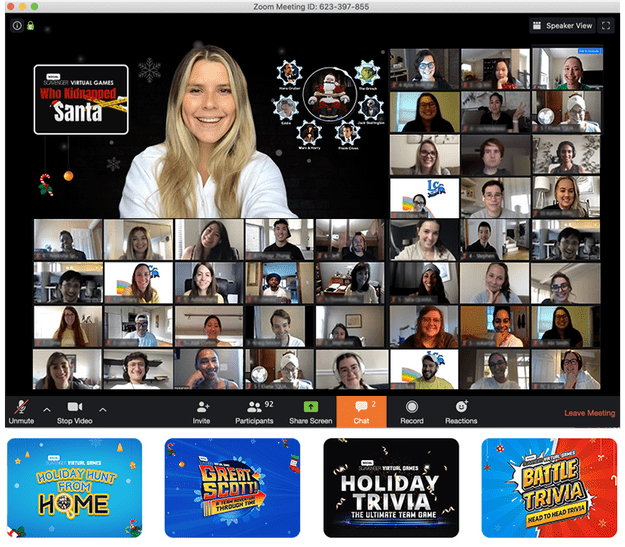 3. Bore your team with company updates
So this year's party isn't going to be an all night rager. But just because you can't have a traditional holiday experience, don't be tempted to host a 3 hour town hall where leaders just talk at the crowd. Your team needs to unwind and have fun – even if they're doing it from the comfort of their own home. So sure, spend a bit of time on company updates but make sure you're also doing something special for a group of people who – let's be honest – have probably had a pretty rough 9 months. Why not put on a virtual scavenger hunt or hire a mixologist to give a virtual cocktail making workshop? Or you could get your team to take part in a virtual charitable event or talent show. Find ways to recognize the extraordinary work your staff have done in a compelling way – without the talking heads.
4. Do it on the fly
You might have been able to just fly by the seat of your pants with holiday parties that took place 'BC' (before COVID) but that's not gonna work 'AC'. If you want to plan a truly epic holiday party, why not enlist the help of some professionals. Using a tried-and-tested company to professionally host your virtual holiday party will ensure it runs smoothly and keeps your group engaged and excited. 
5. Clawing back the holiday budget 
Sure, you might not be buying enough food to feed a small army, but that doesn't mean you should reallocate all of the holiday party budget. Investing in a morale-boosting event is a great way to wrap up 2020 and help set the tone for a better 2021. From customized, branded games and magic shows and classes to bespoke trivia and scavenger hunts, with a little investment you can make a big impact on your team this year. 
If you're ready to throw an unforgettable holiday experience, get in touch with one of our virtual event planners who can help you put together a truly epic party.