Alight, 2020 is finally behind us (THANK GOD). So let's start 2021 afresh and plan for a truly memorable and inspiring year. 
But the pandemic is still going, you say? And the cold, depressing depths of winter have descended upon us. And I need something to lift my spirits before I burst into tears at my next Zoom meeting.
Don't worry – we got you! We've come up with a list of expert tips to keep you, and your team members truly inspired and engaged in 2021. 
1. Plan ahead
In pre-COVID days, you could arrange an impromptu post-work drink at the local pub or a last-minute lunch at a nearby restaurant. But post-COVID, company event planners need to be more proactive when it comes to organizing team activities. The first quarter of 2021 will be especially tough, so try and give your team something to look forward to each month. Get a few key events in their calendar this month so they'll have something to keep them motivated throughout the first quarter.
Need some inspiration? Check out our list of fun and engaging virtual team events.
2. Call in the pros
You are not alone. There is help out there. In fact, since COVID hit, events experts have been pivoting their businesses to bring those once in-person events online. So connect with a professional corporate events specialist to help you plan out some seriously inspiring experiences for your team. From virtual scavenger hunts to escape-style games and trivia galore, there are so many professionally-managed and hosted games available to keep your team connected and engaged in style. 
Need help planning your awesome team events in 2021? We're ready to chat.
3. Think outside the box
Those 3-hour Zoom meetings just aren't going to cut the mustard anymore. So why not look into some truly unique experiences, like hiring a magician, stand-up comedian or band to perform for your team? It might not be as authentic as the live experience, but it's a great way to support local performers, and it's a nice change of pace from a standard video call.
Other ideas include online cooking and cocktail-making classes and yoga and meditation sessions.
4. Host your own office Olympics
Remember in Season 2, Episode 3 of The Office (of course you do) when Michael and Dwight leave Dunder Mifflin for the day, and then Jim, Pam and the whole crew organize their own Office Olympics? Well, why not do the same thing, virtually? Create a series of competitive games like trivia, brain teasers and puzzles. Create a leaderboard to see who's in the top spot. The games can take place over days or weeks to keep that competitive spirit alive!
Want to book your own Office Olympics? Get in touch with one of our producers today!
5. Check in often
The winter months can be especially hard – there's less sunlight, we're getting less exercise and spending less time outside. Plus, with COVID-19, we're getting even less interaction with our friends, family and coworkers. So make sure you check in with your team often and ask them how they're feeling and coping. One fun way to do a vibe check on your colleagues is a daily reaction GIF competition. Every morning, ask your team to send through a GIF that explains how they are feeling. It encourages your team to be creative and is guaranteed to give everyone a much-needed laugh.
This is ours for the year!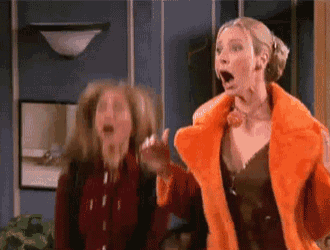 Those are our top 5 tips for keeping your team inspired this year. Still need help creating an awesome calendar of events for your team? Get in touch with one of our producers today to get started.