What's a Pokemon Go Style Scavenger Hunt?
Love it?  Hate it?  Never even tried Pokemon GO?  Well it's time to leverage the Pokemon GO fun times for your own needs and make an amazing Team Building style mobile event that won't soon be forgotten.  
So what are we talking about?  We are talking about building a custom GPS based adventure game with your own locations, stickers and other types of challenges that work with your audience, timelines and location.  Let's start with the basics.
What are stickers?   In Pokemon GO they are Japanese style playing card characters.  You can go cartoon characters if you want or you can get super creative and mix it up.  Totally up to you!  We have free stickers but we'll also build custom stickers for you or simply show you how to build your own custom stickers.
Bottom line is the stickers in your hunt will vary based on your audience and the type of game you want to run.
Why custom GPS locations?  Well that's for you to decide.  If you want to do a Car Rally you can cover a much larger distance than wondering a resort.  If you want to spend 60 minutes vs. 3 hours, that's going to change the radius of your game as well.  If you in Paris vs. New York city…you'll want it to be in the right place!  It's easy to set the location points to make it work for you.  The bottom line is your game (unlike Pokemon Go) is going to want to have a radius and end eventually!  You have a life to live here.
Why other challenge types?  Hey stickers are awesome.  Feel free to do a Sticker only hunt.  Perfection. But you know what else is fun?  Making videos is fun!  Have teams do a dance off, or a karaoke off  by filming a dub smash video.  How's that not awesome?
How Easy is it to Build a "Pokemon GO" style Mobile game?  Easy.
 Pick a Theme.  Pokemon GO let's you hunt down cartoon characters from their cards.  But we can do better right?  Recreate a movie while going through Chicago?  Go 80s T.V. theme?  Maybe it's Murder Mystery time? Classic shows, characters and moments are always great.  That said we can also match these themes to your goals.  Dream it up – we can do it.
Build your Game Challenges using the Social Scavenger game builder.   This part is easy.  Once you have your stickers we just load them into the game builder.  You can choose a GPS location using a Google Map (or not).  Assign how many points players get for each challenge and you are ready to go.
 Get your Teams together and Play using the Social Scavenger App.  We recommend putting your players into teams.  Teams are fun but you can also do individuals if you want.  When you are ready to go unleash the teams and they'll start earning points by tracking down challenges and creating awesome content while you can watch it all unfold on the leaderboard and live stream.
Building Your Pokemon GO Style Sticker Challenges really is easy…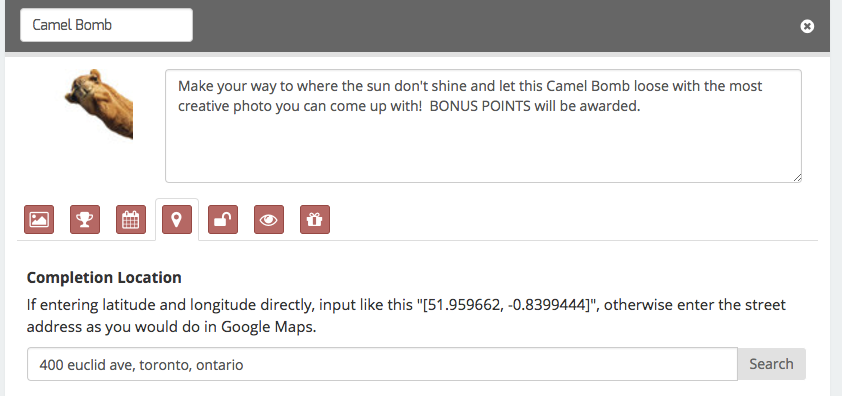 Playing your Game – the even more fun part
Players see a list of challenges and go dominate the game!  That's what players do.  They can look at a list, or they can look at a Map.  Once they get to the location they can unlock the sticker challenge and get to work making magic.  Here are the two 'views' your players can access, one is a list the other is a map.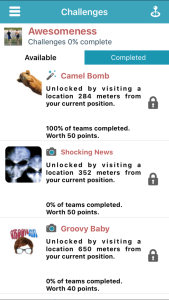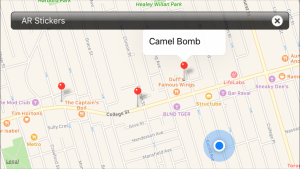 Interacting with your Sticker.  You can pinch, drag, twist your sticker until you get it just right.  You can also choose photos from your camera roll if you want to use SnapChat or another app to make some funky photos to throw in with your Camel Bomb.
Camel Bomb Players in Action – No Spitting.
The origin of the Camel Bomb is Australia.  You can see people interacting with the camel in all kinds of fun ways!  In this particular game setup players didn't have to be in a specific location to make camel magic, which is an option when you build your game.  Lots of fun with Camels…who knew.  Also stickers don't spit on you.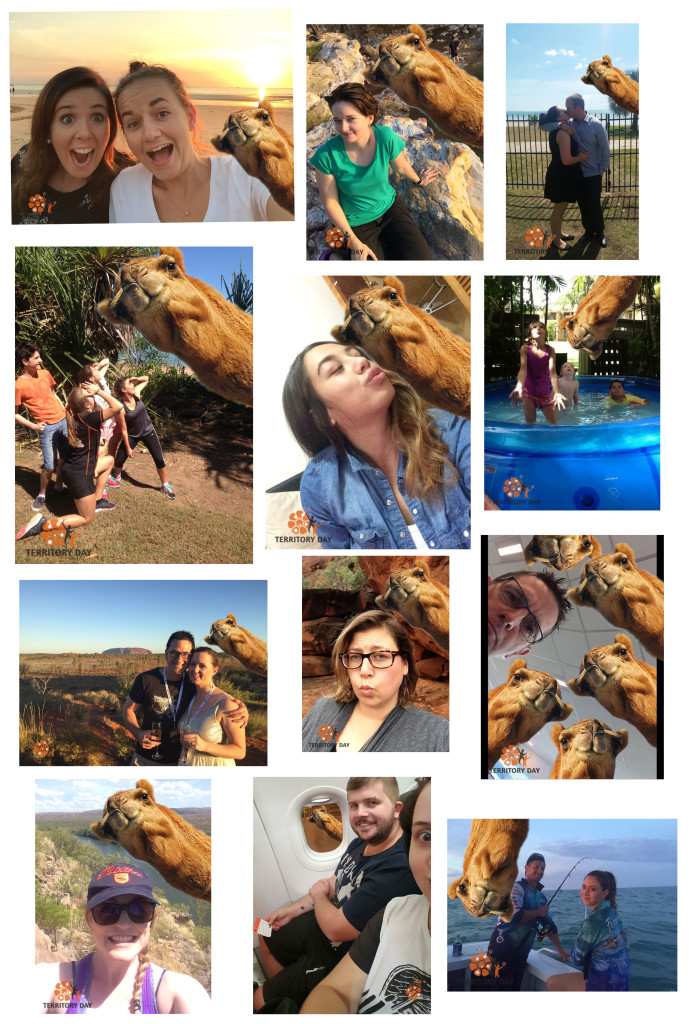 What other stickers exist?
Zillions.  If you can dream it up (or Google Image it) you can make a sticker.  We've seen Donald Trump and Hilary stickers, people's bosses, photos of people from 30 years ago (pose with the boss in the old days;), branded cartoon characters, movie characters and the list goes literally on and on and on.  We have a some free stickers you can start with over here.
From the same game as Camel Bomb here is a newspaper headline.  You can see people will get creative.  When the Aliens are coming…some people are scared…others seem to think they are the aliens!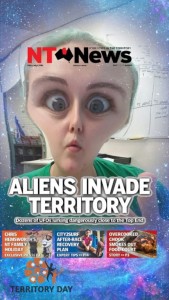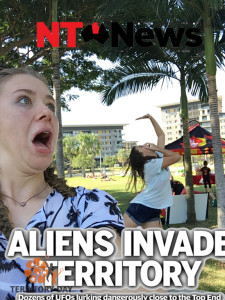 Behind the Scenes – What else can you do?
Award Bonus Points – Optional.  Hey, your  game scores itself.  People get places, do challenges, earn points and they show up on the leaderboard and live stream.  HOWEVER, if you want to award bonus points it's easy to do in your game approvals module.
Customize Everything.  To re-emphasize this point, you can keep games super simple.  10 locations. 10 stickers. 60 minutes.  Run.  Have fun.  But for those looking to embed youtube videos, lock challenges to other challenges, have players track down hidden QR codes online or answer trivia questions before moving beyond checkpoints…well there are lots of other options!
Produce Multi Media Wrap Up Videos.  That sounds fun right?  You can easily export all of your content and turn it into a quick 2 minute video highlighting all the fun.  People love that.  Love it.
Is this Blog Post ever going to End?
Yes.  Great Idea.  Here are two last questions we get asked all the time. 
 Can Social Scavenger build this for me?  You know it.  We can build stickers for you.  We can build your game for you.  We can build wrap up videos for you.  We can even have people show up and help run your event.  Or we can just help you get up and going and walk you through everything.
My game was great – can I easily do it again? Definitely, you can have a library of games and easily clone them.  If you are running this event for multiple groups or at a location and want to do it over and over…be our guest.  Maybe you'll get so good at is, you'll need to run it as a business.
Please Contact us  if you have any questions or go Start Building Your Own Pokemon Style GO GPS Game whenever you are ready…like right now.