Creating Stories with Geostickers
Snapchat and Instagram are great places to share your public life and create a 'story' for the world to see. Millions of people do that. What these services don't do is help you, a company / brand / experience creator, build and craft the story you want to tell. What we've found over the years it it's much easier to get people and groups to create stories when you give them a framework that let's them unleash their creativity and channel the old competitive spirit.
Social Scavenger – Geostickers and Stories
Geostickers in Social Scavenger are stickers that can be unlocked by getting to certain areas (GPS based) or completing certain challenges i.e. answering a trivia question, hunting down a hidden QR code, solving a mystery, taking a photo or quite simply just signing into your game.
Deciding how to unlock geostickers is flexible and entirely up to you. Your players are still 100% in control of the narrative within the story and can choose how to interact and engage with stickers, making their story unique.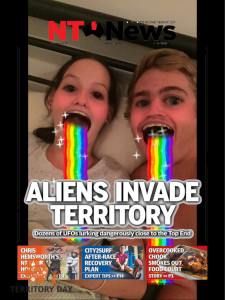 Building Stories with Geo Stickers, Videos and Photos
Why stop at geostickers, when we can get videos, photos, texts and more built right into your story?! Whatever story you are trying to tell with your users – be it for a public campaign, an executive team building, a conference or product release, the power is in your hands.
Creating Geostickers is Free
Geostickers are free to use inside any of our games and stories. Using this feature doesn't cost you any extra money, you just need the stickers. So what are the options for getting yourself all stickered up?
1 – Build your own – Custom Branded Geostickers
Building geostickers is easy if you are familiar with photoshop or other basic design software. Here is a blog post that explains how to create your own geostickers. Of course many people (even those familiar with photo software) don't want to make their own, in which case, read on.
2 – Download our Free Geostickers
We have some free geostickers ready and waiting for you right now. Just download free geosticker packs as you see fit.
3 – Custom Geostickers created by Social Scavenger
What are you looking for? Spending a conference day at Disney World and want to ensure your attendees bump into some of your favorite characters? Exploring Chicago and looking to recreate some of the Ferris Bueller magic? Launching a new movie and hoping to build hype by sending people to locations to create fully branded experiences?  Or hey maybe you just want to get the Donald to show up to your sticker party.
Custom geostickers are just that…custom. Tell us what stickers you want or the story you are trying to tell and we'll build you some awesome stickers.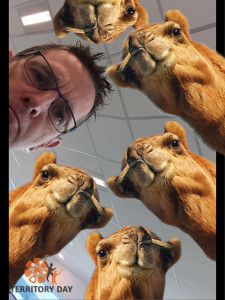 Get in touch
Okay, that's it.  What are you waiting for?  It's time to tell your story with geostickers, so get in touch and let's make some geosticker story telling magic.